Office
We're Bringing Convene Hospitality to You With #BringConveneHome
Posted March 30, 2020
By Andrew Edell
---
---
We pride ourselves on being your home away from home—whether you are hosting an event, attending a meeting, or working in one of our workplaces. But due to the current state of our communities, we're unable to deliver that hospitality face-to-face at the moment. That's why we're launching #BringConveneHome—a new social series that brings our signature hospitality to your home. Whether it's a cooking demo with our chef, home office tips from our design team, a meditation with a health partner, or online fitness classes, we're delivering Convene hospitality as best we can, until we meet again.



---

Featured Post



How Color Can Influence Your Day
Feeling a little uninspired? Today on #BringConveneHome, we're joined by Elsa Carlson, a designer for Convene.
Elsa is here to describe how balancing your work area with an arrangement of colors you can shift your energy levels and help you stay focused at home. 


Warm color are active colors: Red is a color of passion. It's the color of love and hate. Orange is a very strong and energetic color. Yellow is an uplifting vibrant color that is the most visible to the naked eye.
Cool colors are calming and serene: Blue denotes trustworthiness it also can reduce your appetite. Violet symbolizes wealth—it is also the hardest color for our eyes to detect. Green is a reflection of health and prosperity, it also can improve your reading level.
Neutral colors are grounding colors: Browns are considered earthy colors. White is a signal of purity and innocence. Black is an indicator of power.
Tips on where to find color: 
Fruit – This is an easy way to add color quickly (oranges, apples, grapes, etc.).
Flowers – On your daily stroll see if you can spot any flowers that you can use. Even green leaves are a wonderful way to bring in color.
Photos/Art – Find a printed picture or art that you can display (sitting on the table, hung, or tilt against the wall). 
Color Pencils/Markers – Making a bouquet of color with these in a cup/mug can be functional and colorful.
Books – Books can help you get color and height, you can stack them vertically or horizontally.
Blankets and Pillows – By draping your chair with these you will not only gain more color, but a plush look that is warm and inviting.
We hope that color can brighten your day! 
---
Friday, July 10th, 2020



Mexican Coffee Cocktail
Coffee lovers rejoice – now you can start and end your day with some delicious brew. With the help of our coffee connoisseurs, For Five Coffee, we're helping you kick off your weekend with this delicious cocktail recipe. What can be bad about combining coffee, tequila, and fresh whipped cream.
Ingredients
For Five Coffee
1 oz. Kahlua
0.5 oz tequila
1 tbsp confectioners sugar
1 pint heavy cream
Ground cinnamon 
Brew your coffee using your preferred method (we recommend pour-over style). While the coffee brews, start making the whipped cream. Pour the heavy cream into a bowl and mix with an electric mixer on high speed until it has a light fluffy consistency. Add a tablespoon of confectioner's sugar and mix for another 30 seconds.
Pour your coffee into a glass (use a glass or mug with a handle so you don't burn your hand). Add the coffee liqueur and tequila. Carefully add the hot coffee, top with whipped cream, and sprinkle the cinnamon on top. Cheers!



Thursday, July 2nd, 2020



Watermelon and Jicama Salad with Whipped Farmer's Cheese
I love the texture of watermelon—it reminds me of how versatile this fruit is. When combined with some simple ingredients and raw vegetables the results are outstanding. As I taste this salad it brings back many memories growing up in El Salvador. I remember picking watermelon from the fields, and we would add a touch of salt and chili spices to each slice before taking a bite.

Ingredients
3 cups cubed watermelon
1 cups jicama, medium diced
3 tbsp scallion rounds
2 tbsp mint
½ tsp lemon zest
¼ cup radish thin sliced
¼ cup cucumber thin sliced
½ cup cherry tomatoes 
Salt and fresh cracked pepper
⅓ cup farmer's cheese (substitute goat cheese if unavailable)
1 tbsp olive oil
½ tsp kosher salt
Vinaigrette:
2 tbsp balsamic vinegar
2 tbsp extra virgin olive oil
1 tsp shallot
1 tbsp honey
Salt
Wash your fruit and vegetables, prepare according to the ingredient list. In a medium-sized bowl, combine the vegetables with the zest from 1 lemon and a chiffonade of mint. Make sure to strain the watermelon juice before tossing to prevent the salad from being to watery. Take the vinaigrette and lightly fold into together to prevent from braking up the watermelon. If you like to use your hands, please make sure to ware gloves. Season the salad with salt and fresh cracked black pepper to your licking. 
Once salad is mixed take your platter you are going to serve the salad and spread the seasoned farmer's cheese at the bottom of the platter. Spread evenly with spoon so that when you place the salad on top it can be scooped up. When placing the salad on platter with cheese make sure to use a slotted spoon to prevent from adding excess liquid from salad. Once placed on salad you can finish with a touch of olive oil, cracked black pepper and fresh mint for garnish.
---



Thursday, June 25th, 2020



Pork Katsu Sandwich
Fried pork and Sriracha sauce—what's not to love? Try this delicious dish at home.
Ingredients
1 loaf of Cuban Bread
2 6-7 ounce boneless pork chops
2 cups AP flour
1 tablespoon of Kosher salt
1 teaspoon ground black pepper
3 eggs beaten
½ cup water
1 tablespoon soy sauce
1 tablespoon worcestershire sauce
1 teaspoon ground black pepper
2 cups panko bread crumb
2 vine ripe tomatoes sliced ¼ inch thick
6 medium scallions sliced thin
½ head of iceberg lettuce thinly shaved
Kewpie and Sriracha sauce
2 tablespoons Kewpie mayonnaise
1 tablespoon Sriracha sauce
1 tablespoon hoisin sauce
1 ½ quart canola or corn oil
Heat oil to 325 degrees in a fryer or deep pan. Slice pork chops into round medallions. Pound the pork until it is thin. Season pork with salt and pepper. Coat pork in the flour, shaking off excess. Next, place the pork in the egg wash until coated. Finally, lay pork pieces in the Panko and gently pat to coat evenly. Continue the same process with other medallions and set aside on dry wax paper.
Using a slotted spoon, lower each pork piece one at a time into the oil. Fry the katsu for about 5-7 minutes until golden brown.
Toast the bread and cut lengthwise. Spread a layer of the Kewpie and Sriacha on each side of the bread. Next, layer on tomato, scallion, then the katsu, and top with lettuce. Cut the sandwich into 4-6 servings. Enjoy!
---



Tuesday, June 9th, 2020



Agua Fresca and Pina Colada
Grab a large golden pineapple and make these two delicious beverages—one boozy, and one without. The perfect drink for relaxing in the summer!

Agua Fresca
½ large pineapple, grated (about 2 ½ – 3 cups)
1 cup of simple syrup (1 cup of sugar 1 cup boiling water), agave can be substituted
2 tbsp of fresh mint
6 cups of ice
1 quart of cold water
Equipment
Grater
Large pitcher
Cutting board
Take the pineapple and peel by cutting both ends and peeling the skin and making sure all seeds have been removed. Take the pineapple and cut into four pieces lengthwise and cut away the center and discard. Set aside half the pineapple and save for your pina colada.
Grate the pineapple into a pan. Add grated pineapple topitcher with ice and water. With a spoon take and mix the torn fresh mint into the agua fresca and taste. Add the simple syrup and taste to your liking.
Pina Colada
½ cleaned and cut fresh pineapple (about 2 ½ -3 cups)
½ cup Coco Lopez
3 ounces of dark rum (Appleton Estate Rum) you can add more if you like
1 ounce of light (Captain Morgan coconut rum) you can even add more if you like
5 cups of ice
Equipment
Blender
Measuring jigger 
Add rum, peeled and cleaned pineapple, Coco Lopez, and half of the ice. Begin blending at slow speed and gradually increase. The pina colada should be a slightly thick consistency. Pour into a glass and garnish with a cherry.
---



Friday, May 29th, 2020



Ramen Frittata
As a chef I've been trained to cook from the heart and to not be afraid to try something new. Here is one of my recipes I like to do with ramen and random vegetables in my pantry.  Many of us sometimes have random ingredients in our pantry and refrigerator that you don't know what to do with. If you have these ingredients in your pantry or others feel free to add what you like.

Ingredients
1 bag of instant ramen (including spices in package)
3 jumbo eggs
1/3 cup chicken broth (any type of individual packaged ramen)
1/4 cup onion small diced
1/4 cup yellow peppers small diced (any peppers will do)
2 tbsp scallions thin sliced
1/3 cup spinach chopped
1/3 cup broccoli chopped
1 tbsp garlic
2 tbsp olive oil
1/4 of an avocado
1 tbsp scallions 
Preheat oven to 350 degrees.
In your cabinets find an 8-inch round or square baking pan as well look for a medium size saucepan or sauté pan for cooking the ramen and vegetables.
On the stove place your pot at medium high temperature and add the olive oil with the garlic and begin to toast. Crush the ramen in its bag to bite size pieces. Pour into a container with the spice bags.
Add the onion, peppers and broccoli to toasted garlic and begin to sweat for about 4 minutes. Once sweated add the ramen and toast for about 5 minutes at high heat. Add the seasoning packet to ramen with spinach and scallion and 1/3 cup of the stock and cook down till ramen has observed all of the stock.
Take the 3 jumbo eggs and beat them with a fork and set aside. Take the 8-inch pan and season properly to prevent it from sticking. Take the ramen mix and place in the pan with eggs and mix evenly so eggs cook evenly in the oven. Place in the oven for about 10-15 minutes. My oven is a little streaky so I had to cook a little bit longer. 
Garnish with scallions and avocado. Enjoy and remember you never know what you can create with a little creativity with all random ingredients in your pantry.
---


Wednesday, May 20th, 2020



ForFive Coffee "Louie" Coldbrew
Inspired by the city of New Orleans, the "Louie" from ForFive Coffee Roasters is the perfect cold brew coffee for spring and summer.

Ingredients
Cold brew coffee
Maple syrup
Half and half
Fill a cup about 3/4s full with cold brew coffee and ice. Add half an ounce of half and half. Next, add 3/4s an ounce of maple syrup. Take a spoon and mix it all together to mix in the maple syrup. Add more syrup if you like it extra sweet.
---



Monday, May 11th, 2020



Chia Pudding
This delicious chia pudding is the perfect vegan breakfast.
Ingredients
Vegan Chia Pudding with bananas, almonds and granola 
Makes 4 orders
2 cups coconut milk
½ cup chia seeds
1 to 2 ripe banana depending on size or however much you like to use.
1 ripe pear or berries optional
2 tbsp chopped almonds
2 tbsp granola
2 tbsp raw honey (sugar or agave syrup for vegan)
Take the chia seeds and coconut milk and measure for mixing. Once ingredients are measured fold together in a bowl and stir evenly. Add the agave or hoany to the level of sweetness you like. If you are using honey, I suggest heating it in the microwave for 10 seconds to make it easier to stir. Refrigerate the bowl for 2-4 hours before you're ready to serve.
Assemble the pudding in a glass cup or bowl by starting with a small layer of honey at the bottom. Take the banana and peel and crush with a fork or spoon. Once banana is crushed layer on top of honey to your liking. Begin adding about 1 cup of the pudding and spread evenly to begin the garnishing stage.
To garnish make sure the almonds are chopped. Begin by layering the granola and almonds to the pudding and garnish with either diced pears or berries. I also like to drizzle a touch of honey to the top.
This recipe is easy to make and great for up to 4 servings.



Friday, May 8th, 2020



Cocktail: Churchill's Breakfast
Happy Friday! Today on #BringConveneHome, we've got a recipe that will perk you up and chill you out.

Ingredients:
Ice
Bourbon
Maple syrup
Iced coffee
Cinnamon
Add one shot of bourbon (the larger side of your jigger), an ounce of coffee (the smaller side of your jigger), and a splash of maple syrup into your shaker. Top with ice. Shake vigorously for 15 seconds. Strain into a glass, top with a sprinkle of cinnamon. Enjoy!
---



Tuesday, May 5th, 2020 – Cinco de Mayo!



Skirt and Chicken Fajitas with Grilled Vegetables and Charred Tomato Salsa
Ingredients:
2 lbs. skirt steak, cleaned trimmed and portioned
2 lbs. chicken breast sliced in half, so it cooks evenly
Marinade in a medium bowl to toss meats in:
¼ large white onion, julienne cut
½ Modelo beer, 6 ounces
1 tbsp cumin powder
1 tbsp smoked paprika
2 limes cut in ¼, juiced and use all for marinade
Charred Tomato Salsa pulsed in food processor:
2 lbs. plum tomatoes
1 medium large red onion cut into slices for grilling
½ lbs. about 7 medium large jalapeños
½ cup cilantro washed and chopped
3 limes juiced
1 tbsp Kosher salt to taste
When you visit your local butcher, ask for a skirt steak that is not to thin and still has its cap on.
Meats
Make sure to use two separate cutting boards for the beef and chicken. When cleaning the chicken, remove cartilage and slice the breast in half length-wise so it grills evenly. Remove cap from skirt steak and begin trimming silver skin. Once skirt steak is cleaned, portion into four pieces, so it marinates and grills evenly. Marinate both chicken and steak for 30 min in separate bowls before grilling. See recipe for marinade and remember to season with salt and pepper when grilling.
Salsa
Char the tomatoes, jalapeños and onion on the grill for about 10 minutes before you start grilling meats. Pulse in food processor with half of the jalapeños. Add more at the end if you prefer a little more heat. Season with salt.
Vegetables
Take two bunches of scallions, two of each red, yellow, green and poblano peppers with two large red onions. Season with salt, pepper, ground cumin and smoked paprika with olive oil and make sure grill is ready and hot. Once grilled remove from grill and set aside to cut into strips.
When grilling, start by grilling vegetables first and then skirt and chicken breast. Once vegetables are nicely grilled remove from heat and start grilling the chicken until its fully cooked. Cook the skirt steak to medium rare.
Once ready to serve, take the vegetables and meats and cut into strips and heat together in skillet. Serve with the salsa and your choice or both corn and flour tortillas. I like to put sides of jalapeños, sour cream and other condiments like Charro Beans and Spanish Rice.
---



Thursday, April 30th, 2020



Lighting Up Your Home Office
Light has a huge impact on our lives. Our bodies are tuned to wake up and stay focused in response to daylight as well as relax and prepare for sleep in darkness – this is known as the Circadian Rhythm. In hunter-gatherer days, this cycle dictated to us when to be active and when to rest but it's not that simple in modern society. We live indoors, now more than ever, so our bodies can sometimes be confused by how we light our spaces. But, don't worry, we can design with light as we do all other aspects!
Before we start, it's important to know that light temperature is measured in a unit called kelvin. 10,000 kelvin is the equivalent of a bright, blue summer sky and 1,000 kelvin is the equivalent of candle light. How does this impact what lightbulbs you buy? Most will say "Cool White" or "Daylight" as opposed to "Warm White". Pay attention to that, and the wattage, as it will have a dramatic impact on your space!
In order to stimulate our body's natural Circadian Rhythm, we can take cues from the natural world. Cool White light, around 5,000 kelvin and above, will stimulate focus and keep your energy up. Naturally, this type of light is perfect for work. Not only does it keep your energy up but it is less stressful on our eyes as well as representing color accurately. Beware that gadgets and screens give off cool light which prevents rest. No gadgets in bed! By comparison, warm white light, usually around 3,000 kelvin and below, promotes relaxation and rest.
How can we use this to give shape to a work day? Try to place your workspace near a window with sufficient daylight. If you can, sit adjacent to your source, not directly in front of it. Our eyes fatigue when receiving too much direct daylight. If you don't have natural light in your work space (or are working late), light your work space with a bright, cool white bulb.
When you're done with your work day, be sure to turn off those cool white lights and turn on warm or candle light. This promotes relaxation and prepares our bodies for a restful night sleep through the production of melatonin. And, of course, a restful night sleep means a productive following day.
If you don't want to be changing light bulbs too often, Philips Hue smart bulbs (or equivalents) are a great substitute. These bulbs allow you to change your light temperature dynamically throughout the day.
Hopefully, these tips will help give a little more shape to your work day through light. It's more impactful than you might think!
---



Wednesday, April 29th, 2020



Pour Over Coffee
Looking to power up for a long day of Zoom meetings and email? Start your day with a fresh cup of For Five coffee. Today on #BringConveneHome, we're joined by Tracey from For Five Coffee Roasters to learn how to make the perfect pour over coffee.
Ingredients
ForFive coffee grinds
Filtered water
Equipment
Kettle
Pour over kit
Food scale
Set up your pour over kit with a clean filter and heat your water in the kettle. Fill your mug with hot water—this helps warm up the ceramic so your coffee will stay nice and hot longer. Prep your filter by wetting it with a bit of water and discard the water that drips into your pot.
Next, pour your grinds onto the filter (25 grams will yield a little more than 12 ounces of coffee). Give it a little shake to even out the grinds in the filter. Place your entire pour over setup onto your food scale (don't forget to zero out the scale) to keep track of how much water you've poured.
Begin pouring water from your kettle over the grinds, making small, counterclockwise circles across the bed of grinds. Stop when your scale reads 50 grams, making sure the entire bed of coffee is covered. Pause for about 40 seconds, then begin pouring again in a counterclockwise motion. Pour in increments of 50 grams, pausing for 10 seconds in between.
Once you've reached 400 grams, stop and let all the water filter through the grinds. Discard the water from your mug and pour your fresh coffee into your mug and enjoy!
Make sure you follow Convene on Instagram for a video on making pour-over coffee, and check out For Five's Instagram for more great coffee and tea tips.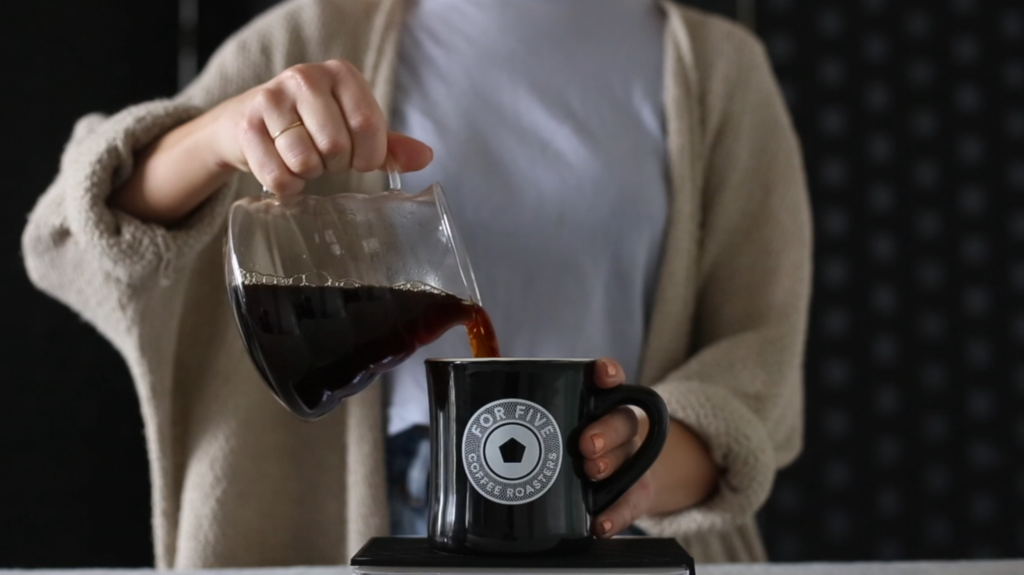 ---



Thursday, April 23rd, 2020



Chef German's Overnight Oats
This simple, healthy breakfast recipe is the perfect way to kick-off your day.
Ingredients
¼ cup flax Seeds
2 ½ cups instant Quaker steel cut oats
6 cups almond milk
1/3 cup almond butter
¼ cup maple syrup
1 cup diced apples
½ cup orange juice
1 zest of an orange
1 cup Greek yogurt (for vegan version, substitute coconut yogurt)
½ cup chopped fruit trail mix
1 tsp kosher salt
1 tbsp cinnamon powder
Garnish to your preference
Sliced Strawberries or bananas
Raspberries or blueberries
Chopped almonds
Trail mix
Granola
When making the overnight oats, it is important to have all of you ingredients prepped and measured out. Start by grabbing a large mixing bowl and combine all of the above ingredients into the bowl and mix evenly. Make sure the almond butter gets broken down and evenly mixed with all ingredients. If you want to make this overnight oats vegan, switch the yogurt to coconut yogurt. Once all ingredients are evenly mixed, place the bowl in your refrigerator and let sit for 15-24 hours.
The next day, spoon a serving into a bowl and garnish with the berries, nuts, granola and trail mix. Enjoy!
---



Tuesday, April 21st, 2020



At Home Core Exercise with Hydra Studios
The gyms may be closed, but we're here to help you stay in shape at home—both mentally and physically. Here's another easy at-home workout, no special equipment required.
Equipment
Yoga mat or other comfortable area to exercise
Steps
Plank oblique crunch – Take a side plank position with one forearm flat on the floor and your feet placed one on top of the other. Place your opposite hand behind your head, with your elbow pointed towards the sky. Keeping your hips lifted, bring your raised elbow down towards the ground, touching your elbow to your opposite fist.
Straight leg oblique crunch – Sitting on your mat and using one hand to support yourself, lift your legs and contract your ab muscles to reach your other hand towards your legs. Keep your legs together and straight as you lift.
Around the world forearm plank – Take a forearm plank position, with your feet separated and forearms planted on your mat. Alternating between hands, reach forward, to the side, and back, repeating for each side.
Double leg stretch – Lay down on your mat, back firmly on the mat, with your head, neck and shoulders curved off the mat, and legs raised with feet pressed together. Reach your arms and legs out, then bring your legs and arms in, reaching down towards your legs.
Pilates corkscrew – Laying down on your mat with your head, shoulders, and arms also resting on the ground, press your legs together and lift them straight up above your hips. Point your toes and gently swing your legs down and around and back to the raised position.
Make sure you check out Convene's Instagram story for video examples and follow Hydra Studios for daily live workout videos.
---



Friday, April 17, 2020



Cucumber Gin Fizz
As flowers are starting to bloom and the weather slowly begins to warm up, we're bringing you this refreshing gin cocktail today—perfect for sipping on your back porch while you applaud our healthcare workers at 7:00PM. Be sure to check out our Instagram story today to see how it's done. Let's get to it!
Equipment
Shaker
Strainer
Muddler
Shot glass or jigger for measuring ingredients
Ingredients
Ice
Gin
Cucumber
Egg white
Lemon
Honey
Directions
Cut the lemon into quarters. Squeeze one piece of the lemon into your shaker. Next, cut two slices of cucumber and drop it into the shaker. Muddle the cucumber with the lemon juice. Add a drizzle of honey and 2 oz. of gin. Carefully crack your egg and add only the white into the shaker. Add ice and shake vigorously until ingredients are combined. Strain the cocktail into your glass and top with ice. Garnish with a slice of cucumber. Enjoy!
---



Friday, April 10, 2020:



Tostones with Garlic "Mojo" Sauce
Not fried once but twice these tasty plantain chips will have you questioning your snack game.

Ingredients
4 Green Plantains not ripe
2 cups of corn oil
3 tbsp sea salt
2 quarts water
1 medium bowl (for soaking the plantain)
1 medium sauce pot (for frying the plantain)
1 small round pot or plate (to flatten the plantain for tostones)
Garlic "Mojo" Sauce
¼ cup olive oil
2 tbsp garlic chopped
4 tbsp shallot chopped
2 lemons squeezed- ¼ cup of juice
1 tsp cumin seed
½ tsp oregano
1 tsp salt to taste
Tools
Blender or hand stick blender
1 small sauce pot
Take the green plantain and remove ends, cutting a slit down the plantain and portioning them at 1″ thick. In a medium size bowl, add 2 quarts of water with 3 tbsp salt and soak the cleaned portioned plantains for 10 minutes. While the plantains are soaking take the medium sauce pot, add oil and place on burner at medium high heat. Once plantains are done soaking remove from water and dry with paper or cloth towel. Once the oil reaches a temperature of 325 degrees F, place the plantains slowly in hot oil. You want to cook the plantains on both sides for about a total of 7 minutes to a golden color. Remove the plantains from oil. Turn oil temperature to low until ready to finish the last stage of the tostones.
Take the prepped garlic, shallot, cumin seed and olive oil and combine in a small sauce pot. Put the pot at medium high heat and stir evenly to lightly caramelize the garlic. Once garlic has toasted turn off heat and set aside to cool. Once cooled, place in blender and add the juiced lemons and the oregano, blend at slow speed then buzz at high speed for about 5 seconds. Remove from blender and taste for seasoning.
To begin the final stage of the tostones turn the heat to high on the oil. Take all the cooked plantains and smash to about 1/3 inch or as thin as you like. Don't smash too thin or else it will fall apart. Once the first few plantains are done, slowly add them to the high heat oil and fry to a golden-brown consistency. Remember the plantain will cook at different stages depending on the ripeness of the plantain. Continue the process of smashing all plantains and repeat the frying process till all plantains are cooked. Once cooked, place on paper owl to soak up some of the oil and season with salt before assembling in dish with mojo sauce. Spice it up with a touch of cayenne pepper powder. Enjoy!
---




Wednesday, April 8, 2020:



Lunch Break HIIT Workout with Hydra Studios
Being stuck at home doesn't mean you have to skip your daily workout. Today on #BringConveneHome, we're joined by Kenny Wang, a certified personal trainer and instructor with Hydra Studios. Kenny has a high intensity interval training workout for us today that uses improvised weights you can find around your home or apartment.
Be sure to check out the video on our Instagram story, and see the written instructions below. Grab a few cans of food, bottles of water, or even a few wine bottles and let's get to it!
Goblet Squats
Holding your weights at shoulder height, push your hips back and lower into your squat. Then, push your heels into the floor to lift out of the squat. Repeat.
Push-Ups
Moving down to the floor, take a push-up position. Keep your hands below your shoulders, squeeze your core and glutes, Bring yourself down as low as you can then lift yourself up in one fluid motion. Repeat.
Glute Bridges
Lay down with your knees bent and your feet flat on the floor. Engage your glutes to push your hips upward then back down to the floor. Repeat.
Curl to Press
Grab your weights again and stand with your feet shoulder width apart. Lift your weights in a bicep curl, followed by a press over your head. At the top of your press, make sure your biceps are even with your ears. Keep your elbows tight on the way down. Repeat.
Shoulder Taps
This next step will work your core. Move to the floor and take a plank position with a wide stance for your feet. Touch each hand to the opposite shoulder with your hips facing the ground the whole time. Alternate hands and repeat.
That's it! Make sure you follow Hydra Studios on Instagram for daily live classes.
---



Monday, April 6, 2020:



Iced Matcha Latte from For Five Coffee Roasters
Ingredients:
Matcha Powder
Milk (of your choosing, we used Almond Milk)
Tools:
Mini Strainer
Teaspoon
Small Mixing Bowl
Mini whisk
Measuring cup
The perfect travel mug
Steps:
Start by scooping out a teaspoon of matcha powder. Place your mini-strainer over the mixing bowl and strain the matcha powder through. Add 2oz. of hot water (keep under 200 degrees so the matcha doesn't burn). Whisk in a circular motion to get rid of the powder chunks. Whisk in a zig-zag motion to create foam. For an iced matcha, pour matcha shot over iced water or iced milk. For a hot matcha, pour matcha shot over hot water or use a milk frother to steam milk for a matcha latte.
Special thanks to our partners at For Five Coffee Roasters for this delicious recipe!
---



Friday, April 3, 2020:



Friday Cocktail with Club 75 Bartender Russell Pangilinan

"Orange Blitz"
Ingredients:
Bourbon 2oz
Honey 1tsp
Egg white 1
Mandarin (hand squeezed) 1
Ice
Tools:
Shaker tin and Hawthorne strainer
grater or micro plane
Add the bourbon into the shaker tin
Cut the mandarin in half, and squeeze the juice from one half into the shaker tin. Place the half aside.
Pour the honey into the shaker tin
Add the egg white
Add ice
Shake
Pour contents of the shaker into a rocks glass through a strainer
Using a grater, grate the rinds of the 2nd orange over the top of the drink
Enjoy!
---



Tuesday, March 31, 2020:



Work From Home Cooking With Chef German Villatoro
Chicken Soup with Fideo Noodles
Is there anything more soothing than homemade chicken soup? This is one of those meals where the store bought just doesn't compare. Chef German shares his recipe for this ultimate comfort food classic.
Ingredients
1 4-5 lbs. young whole chicken
1 celery bunch (2 steps: Bottom for broth, and 3 cups of celery for soup)
1 carrot bunch washed and cleaned, sliced 1/2 inch rounds
1 white onion diced
5 cloves of garlic sliced
8 bay leaves
½ bunch of parsley with stems chopped
4 sprigs fresh marjoram sprigs
1 tbsp dry oregano or 4 sprigs of fresh oregano
2 tbsp olive oil
1 gallon of cold water
2 tsp fresh ground black pepper
2 tbsp sea salt
1 cup fideo noodles
Equipment needed
3 gal. stock pot to boil the whole chicken
1 fine strainer to strain the stock
1 large sauce pot to make the chicken soup with fideo
Instructions
To make the chicken broth for the soup, take the young chicken out of its package and remove gizzard and neck bag. Rinse the chicken and chicken parts with cold water and place in stock pot with 1 gallon of cold water. In the pot add the bay leaves, marjoram stems, garlic and the bottom half of the celery bunch that has been cut in fours and cleaned. Turn the burner on at medium high and simmer for 30 minutes, then turn off heat and let rest in hot broth for 10 minutes before removing whole chicken to cool for picking.
While the whole chicken in simmering make sure to prep the celery, carrots and onions and set aside to begin the soup process.
Remove the chicken from the pot and let it cool for 10 minutes before picking. Once chicken has cooled begin to remove all the skin (unless you like skin, then you can keep it on). Then begin to remove all chicken flesh off bone and set aside to begin soup process. Discard the bones and recheck meat to prevent from having random bones in soup.
Take the broth and strain through fine strainer and set broth aside for soup. Remember you can use as much broth as like for the soup. I used 2 quarts, and whatever is left over always good to save for other recipes.
Once chicken is picked and soup prep is finished, take your sauce pot and place on burner at high heat and add the olive oil, celery, carrots, onion and half of the salt and begin to sweat for about 5 minutes. Once vegetable have sweated, add the 2 quarts of measured chicken stock and half of chicken and braise for about 10 minutes at medium heat. Once chicken and broth has braised for 10 minutes fold in the cup of measured fideo pasta and cook for 5 minutes. Once pasta has cooked remove from heat and garnish with fresh chopped parsley and the rest of the salt. Add more salt to your liking
Now, all you have to do is enjoy it!
If you enjoyed this recipe, please post your creations on Instagram, and tag @Convene and #BringConveneHome to spread the love.
---