Company News
New York City's Most Advanced Coffee Shop: Where Technology Meets Hospitality
Posted February 14, 2017
By Hilary Braseth
---
---
There are few morning rituals that are as sacred as the consumption of coffee.
For New Yorkers, that means that starting with their daily grind is a necessary step in contributing their incremental value to the global economy.
That's why Tom Tsiplakos and Stefanos Vouvoudakis, co-founders of For Five Coffee Roastery, believe that this important ritual is one worth further perfecting. Since 2011, the pair have grown to become New York's largest boutique coffee roaster, a company that now rivals the state's largest producers while still being majority-owned by its founders.
Driven by a mutual love for java, the first-generation Greek-Americans (and best friends) have built their end-to-end coffee production process from scratch, and it's been paying off. Now a team of 30 strong, For Five is brewing the latest coffee blends at their state-of-the-art coffee laboratory in Queens, and are investing in significant technological advances to produce what will become the future of great coffee.
SOURCING THE GREEN
As any master chef spends an inordinate amount of time sourcing their ingredients, the beans reign supreme at For Five. At the beginning of each day, Tom and Stefanos sit down with George, their master roaster and coffee director to sample every single variety of bean and blend from the prior day, as the first step in their quality assurance process.
"We made the decision to only carry 'Grade A' coffee. In the coffee industry, beans are ranked from 0-100. We only carry 80 and above. This is just as important as our technology, and is the beginning of what sets good from great apart," says Tsiplakos.
For Five's beans are currently sourced from 30 different countries, which allows them to build flavor platforms that represent an exotic repertoire of signature blends and single origins.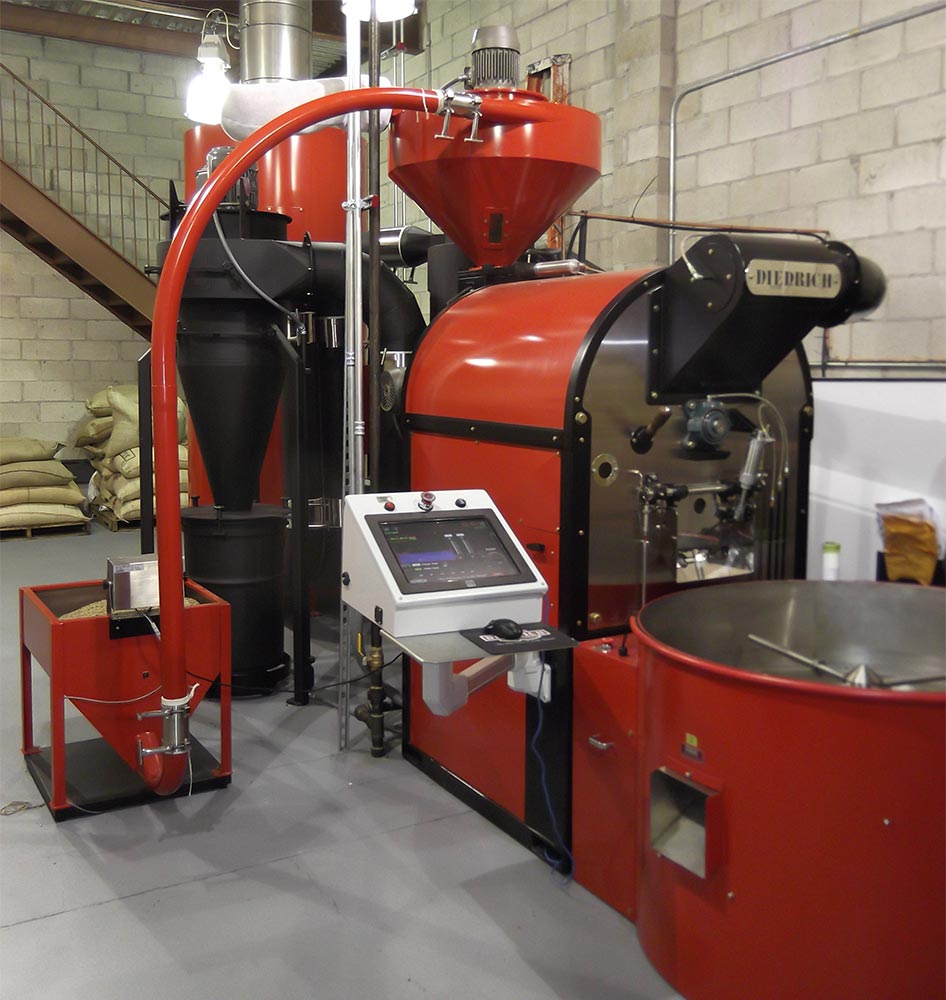 ROASTING, MIXING, & CALIBRATING
Where For Five's technology investments start coming to life, and arguably in the most critical step, is the roasting process itself.
"Roasting is the bridge between the bean and the brew, and is a very important component in the quality of the coffee experience," adds Tom. The nuances to the roasting process are where art meets science, as each point of origin has its own unique roasting recipe. To accommodate for such complexity, For Five leverages a customized, high-end roaster known as the CR-70 Diedrich. The Diedrich uses an automation program that allows For Five to increase precision and consistency on every roast.
"Our roasting technology is one of the most important investments that we've made," adds Tom. "Our Master Roaster concentrates on batching 60 to 70 kilograms at a time, with the beans coming out at the right moment, exactly the way we want them." For Five's signature coffee blends will require an additional step — mixing — to precisely measure and blend each type of component roast through a proprietary process.
Once roasted and mixed, the beans move to a packaging machine with an automatic weigher, filler and sealer. For Five can now produce 50,000 pounds of highly calibrated – and highly delicious – coffee per week, now distributing their blends to over 4000 corporate clients including the likes of Bloomberg and Facebook.
BREWING
"You could roast the best coffee in the world with the perfect bean, but if the barista over-extracts the coffee from the espresso machine, you're not going to get the optimal flavor," says Stefanos.
That's why For Five recently partnered with Convene to open a high-end retail store and coffee shop in Times Square. In the quest to perfection, the front-end technology investments towards brewing are finally able to meet the quality standards of the back-end ones.
Located on 117 West 46th Street, the coffee shop of the future features climate-controlled Mahlkönig grinders from Germany, with premium cast steel disks that grind the beans into drip-ready coffee. Proprietary algorithms then power their touch-screen precision brewers, which accurately measure the amount water needed per each gram of coffee to achieve the best flavor profile, which varies by every blend and brew.
For an elevated espresso experience, For Five took the plunge and leverages state-of-the-art hardware made by Sanremo. "To create this specific Sanremo model, four barista world champions were brought together," says Stefanos. "They were all asked if they were to build an espresso machine, what would it look like. This model we invested in was it!"
The last piece to create perfect coffee experience is often the most underinvested one, and that is the For Five hospitality experience. "Even if 50 people come in at a time, you're only waiting two minutes," says Stefanos. "The assembly line was perfectly designed, and we've got the best staff possible (trained to Convene standards) in New York City. You'll always feel like you're a part of the family here, and our customers who come in everyday know that they'll always be taken care of."
ON THE HORIZON
Tom and Stefanos are already busy working towards the next phase of their java journey, a full-service coffee shop and café lounge at One World Commons, which is a building amenity exclusively available to One World Trade building tenants, also developed in partnership with Convene.
"Wait until you see what tech toys we have at the World Trade Center with Convene," says Stefanos. "We're just getting started!"
---