Meeting & Event Planning
Making an Impact at Convene on Global Meetings Industry Day
Posted April 11, 2019
By Craig von Wiederhold
---
---
A group of 135 meeting professionals gathered at Convene at 730 Third Avenue in New York to celebrate Global Meetings Industry Day (GMID) and discuss a sobering but relevant topic: "What is Our Industry's Role in Addressing and Acting Against Human Trafficking?"
Before the presentation kicked off, Chris Kelly, cofounder of Convene, welcomed the group and expressed his gratitude to the meeting planners in attendance, and the industry as a whole.
"We started right here," he said. "This was our first location." Today, with 15 venues in New York City, Philadelphia, Boston, Chicago, Washington, D.C, Los Angeles, and London, Convene is the nation's fastest-growing developer of meeting and event venues. "This speaks to the power of meetings," he added; an apropos remark on April 4th, a day dedicated on shining the real impact meetings have on people, businesses, and the economy.
GMID was started to spotlight the global economic impact of the meetings industry. According to the Meetings Mean Business (MMB) coalition, that number is a staggering $2.65 trillion.
All photos courtesy of #SimonProPhoto
Meetings Industry Joins the Fight in Human Trafficking
The power of the meetings industry is being harnessed to help combat the issue of human trafficking, the theme of the gathering. The issue is widespread and is said to be the world's fastest growing crime. The International Labor Organization estimates that there are over 40 million victims globally and one in four is a child. The travel industry is a key, although unknowing conduit for human trafficking.
During the GMID session held at Convene, David Peckinpaugh, president of Maritz Global Events, explained that in 2011 he was invited by travel technology company Sabre to join them and Delta Airlines in signing the Tourism Child-Protection Code of Conduct, commonly referred to as just The Code. Not familiar with it, he did some research. "At that point, my understanding was that this was an issue in Asia, particularly Thailand. I didn't think it was happening in the United States, certainly not in St. Louis where I had moved."
Was he wrong. Some of the very first information Peckinpaugh came across was about victims right there in St. Louis. "A lightning bolt went off in me that this is not an issue that is overseas; it's in our backyard. As a member of the world and the human community, I knew we had to do something to get involved."
He reached out to Carol Smolenski, executive director of ECPAT-USA, the first U.S.-based nonprofit to work on the issue of commercial sexual exploitation of children, another panelist, and today, with ECPAT's help, Maritz is leading the fight against human trafficking. Maritz has a steering committee of 80 volunteers who create the company's agenda around human trafficking. Maritz's 1,600 employees also have mandatory training which leads to them signing the Code, the pledge committed to taking action in the worldwide fight against human trafficking.
You Can Help Save a Trafficking Victim By Taking a Hotel Room Pic
Maritz also encourages its employees to take photos of hotel rooms they are visiting and upload them to TraffickCam, an easy-to-use app. These photos are downloaded into a database and used by law enforcement agencies to determine where perpetrators of sex trafficking are committing their crimes.
By snapping a few photos, this app enables everyone to take a stand against sex trafficking, said Peckinpaugh, and the meeting professionals in the room took note. Many could be seen downloading the app during the presentation.
Another way not just meeting professionals, but all involved with the travel industry, can help combat human trafficking is with a 25-minute online training program developed by ECPAT. It teaches the signs to look for, and what you can do to help.
If You See Something, Say Something
"If you see something, say something," asserted ECPAT-USA's Smolenski. Numbers to keep handy include the human trafficking hotline (1-888-373-7888 or text "BeFree"—233733).After the session, the group headed into a light-filled breakout room for wine and snacks where they also helped fill backpacks with items including toiletries, socks, protein bars and cards they personalized with inspirational messages that will be sent to law enforcement agencies and given to victims upon rescue.
From Convene, many of the attendees headed to Union Park, a private events space on 17th Street, for a tri-state meeting planning event where more than 300 planners and countless NYC & Company members networked and showcased the power of face-to-face meetings. As the festivities winded down, and the group filtered out onto the city streets, the Manhattan skyline was awash in blue, the signature color of the Meetings Mean Business Coalition. Talk about a fitting way to end a day aimed at showcasing the power of meetings.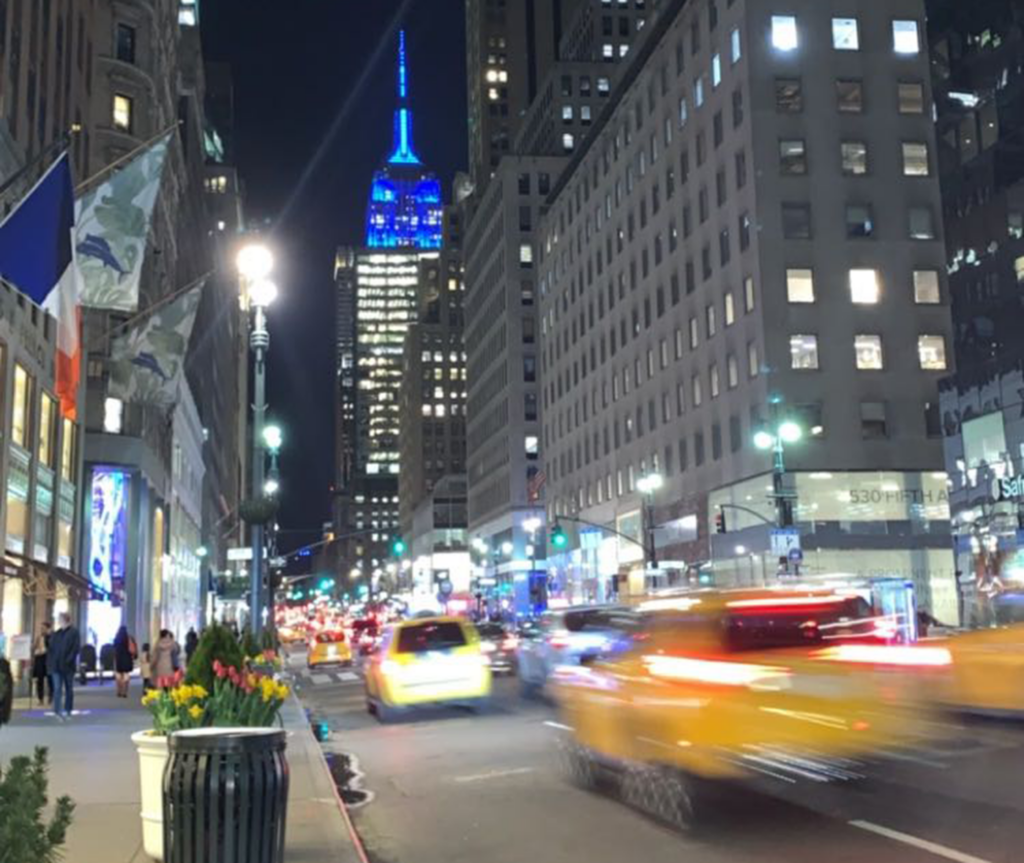 ---