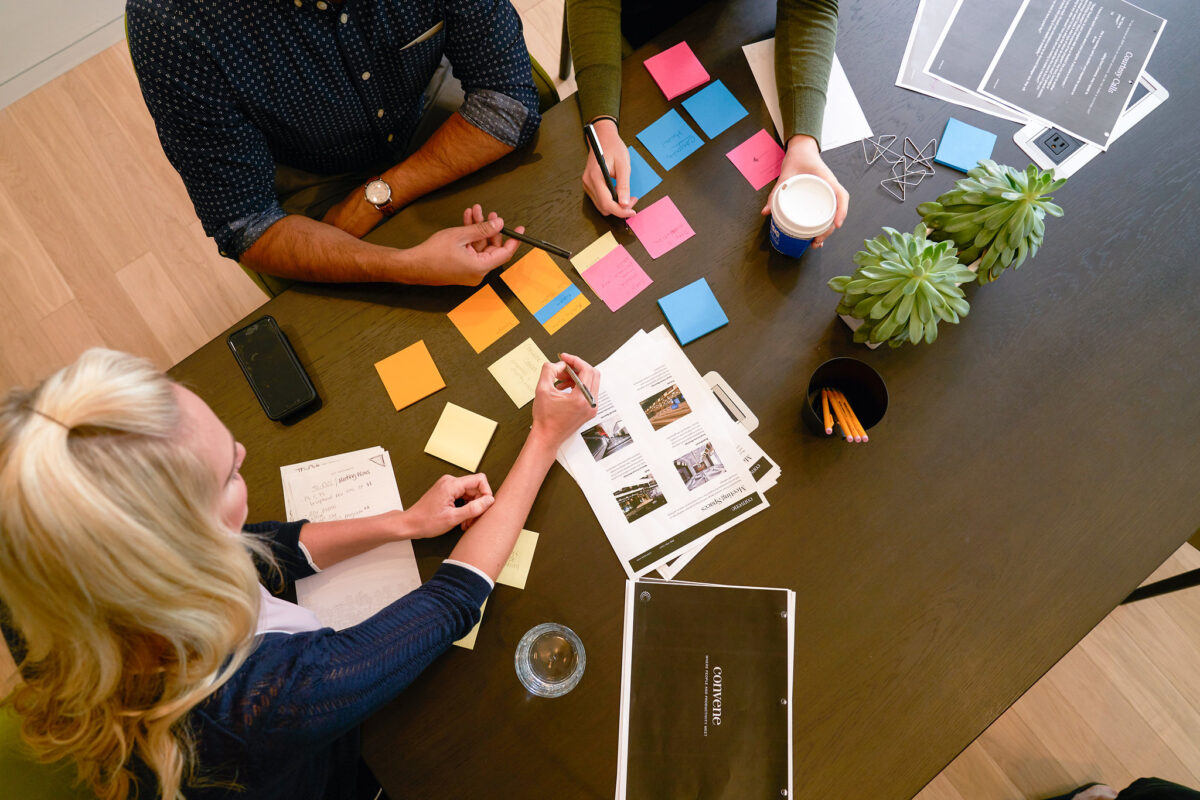 ---
---
Hiring for an event planning position within your organization can be a chore. Adding a new member to your team is exciting, but there's also a lot of administrative process and risk surrounding a new hire.
But don't dismay.
Hiring a top-notch event planner can help you build a stronger team and increase your ability to delight your stakeholders by delivering more successful events… if you do it right.
How do you ensure the person you're hiring is the rock star you're hoping for?
This succinct guide will walk you through the finer points of how to find the ideal event planning candidate by:
Step One: Understanding your needs and the right fit for your event(s)

Step Two: Drafting the perfect job description (to attract the right kind of person)

Step Three: Narrowing the field by only looking in the right places

Step Four: Perfecting the interview process

Step Five: Becoming the employer (or event) that people want to work for
Hiring the right person for your event planning position means interviewing the ideal candidate. But if the ideal candidate doesn't know about your position or isn't attracted to your opening, you can't hire them. Once you find them and interview them, and like what you see, they have to be impressed by what you're presenting as well.
There are a lot of components and steps in creating a good match. Here's everything you need to know about finding your next event team superstar:
5 Actionable Steps to Landing Your Next Rock-Star Event Planner
If you want to add an event superstar on your team you need to begin with assessing your wants. It's more efficient to get it all together and begin looking for that ideal person from the start than start down one path, only to realize you wanted something else.
While most hiring managers want to post the position as soon as they get approval…
Don't.
Instead, take some time to get it right.
One important note before you begin the hiring process.
New hiring managers often underestimate how time consuming the process really is. Many just want to fill the space of a vacancy or select someone as quickly as possible to take some of the workload from the existing team.
But great hiring managers know there's more to building a team than a résumé that checks all the right boxes.
Hiring allows you to complement your team and fill in the skill blanks that you may have. For instance, maybe your existing team is light on social media skills and you want to increase your social media marketing and event analytics. If you can spare the time, you can send your department to a conference or seek out professional development for them.
Or…
You could hire an event planner with those skills who can then help train the rest of your team during downtime.
Let's walk through the process of how to make the most of your next hire.
Step One: Brainstorm Desired Skills (and don't forget soft skills)
What Does the Team Value?
Think about the type of person that would be successful in this role. Think about your existing team and the type of softer skills that one would need in order to thrive in that environment, as well as the personality traits that will bolster the strength of your team overall.
In 2012, Google put together a group called Project Aristotle. The goal was to study teams and analyze what made them most effective. Google wanted to know which activities produced the most coherent team.
What did they learn?
Initially, there were no hard and fast indicators of success. Some successful teams went out to lunch together every day. Some had only a professional relationship. So they began looking at "norms." Was there a guiding commandment all these different teams could admit they adhered to?
After all the data and number crunching was done they found all top teams have two things in common:
Members listen to one another and

They respect one another's feelings and needs
Those are good starts but you should also ask yourself what are your department's and company's norms? What are your core values? Knowing this will help you find someone who will be a good fit.
Pro Tip: The job description should have a strong mix of skills required to perform the event planning job and characteristics needed to be successful. Use those characteristics to sort résumés later. A good candidate will tailor their résumé to your job description.
Additional Knowledge
Consider double duties. Is there anything else the event planner will need to be good at aside from traditional event planning skills? Would knowledge of your industry help? What about marketing analytics?
Pro Tip: Use the phrase "the ideal candidate will have a knowledge in X" if you desire a certain skill set but don't want to rule someone out because they're lacking that experience. According to an internal Hewlett Packard report quoted in Sheryl Sandberg's book Lean In, men apply for jobs when they have only 60% of the qualifications listed; whereas women are hesitant to do so unless they possess 100% of them.
Incorporating Audience and Stakeholders
In addition to deciding who will fit well with your team and department, consider the type of personality that would fit in well with your audience and stakeholders. You don't want to select someone for your event planner role that will not be a good fit for your attendees.
Will the event planner need to work closely with the upper management of your organization? If so, what type of person will they expect to be working with? You needn't make guesses about these desired skills. Ask them about their expectations.
Team Input: If it fits your company culture, consider a cross-department survey of those who will be working closely with your new event planner. Looking for input is not only a good way to ensure you source for the skills that everyone deems important but makes people feel invested in the process as well. For the key players (those who will work very closely with your new hire), you could consider inviting them to be part of the final round of interviews.
Never hire in a vacuum—ask where this person fits in your team.
Maximizing Team Capabilities
As mentioned earlier, receiving the green light to hire is a wonderful opportunity to fill in blanks in your current team. Maybe you have a powerhouse of creatives and you would like to balance the team out with someone who is more strategy-driven.
Hiring for skills your current team doesn't possess is the quickest way to add these things to your staff. They can then help bring a new level of expertise that others can learn from. As others develop these new skills or approaches, you can decide if additional professional training is needed in those areas.
Now that you've given thought to what you want, divide this list of skills, qualifications, and personality components into necessary and nice to have.
Pro Strategy: Never hire in a vacuum. Always keep in mind how the skills of your new event planner will enhance your existing team. Create a mind map of your team/department members' strengths and skills. Look for obvious gaps and consider adding those qualities to your job description. Never take a job description from HR and go. Instead, use it as a basis and then tailor it to your current needs. Every time you have the ability to hire, it should be an opportunity to improve the efficiency and functioning of your team.
Step Two: Drafting the Perfect Job Description (to attract the right kind of person)
Knowing what you want in an event planning candidate is the first step but now you need to put that knowledge to work and begin attracting them through a well-crafted job description.
These days people want more than a to-do list. Here is how you can artfully create the type of job description that gets noticed by the right person.
Be Deliberate in Word Choice
Use words in the job description that are important to your culture, clients, and stakeholders. For instance, if you work in a conservative industry, at a conservative firm, in a small town this should be conveyed in the job description in some way as it will attract someone interested in that type of atmosphere and help those who are looking for greater innovation and adventure to self-disqualify.
Pro Tip: Just as you have a tone for your company's marketing content to reach your ideal customer or client, you want to have a tone in your event planning job description that will appeal to your perfect employee.
Attract your Ideal Candidate
Don't worry about turning people off by giving a true description of what you are looking for (as long as it doesn't break any employment laws). You don't need hundreds of applicants. You're only looking for the right fit and it could save a lot of time and money in the long run.
Personalization Opportunity: Personalization is important. Think about who you want and draft a job description that will appeal to them. Consider this in the design of your job description as well. Want to attract a reader, for instance? Long blocks of text are fine. If you want someone who's high energy, leave those text blocks out and opt for scannable descriptions and job application instructions. Job descriptions are a great place to throw some creative tests at applicants—like an "attention to detail test" that asks candidates to use a specific word in their cover letter.
Show Them They're Part of Something Larger
Everyone wants to be a piece of something greater than themselves. They want to feel like their work matters and that they are influencing things in a positive way.
If you want to attract top talent, you need to give them a reason to come work for you, outside of merely telling them what they'll do in the role.
Job Culture Moment: If a particular charity, volunteer organization, or company event is important to your organization, share this with job applicants. Perhaps you require 100% participation in United Way or require employees give back in some way. Sharing this will show them a little about your company and attract people who are a good fit for your environment. After all, job prospects are looking at your position and your organization.
A Word of Caution About Job Descriptions
After creating your job description have it reviewed by an employment attorney and diversity officer at your company. There are very specific things you cannot ask for that may be illegal or to a discriminatory hiring process. For instance, while your role may require extensive travel, you cannot request an unmarried, childless person, or a specific age range.
Being specific about what it takes to be a success in the role is fine but many times, job descriptions can unintentionally discriminate against under-represented groups. Consult your legal counsel and human resources team before publishing any job descriptions. Giving everyone an equal opportunity will make you a better employer and keep you on the right side of employment laws.
Step Three: Looking in (Only) the Right Places
In marketing, you want to ensure you're using the channels that appeal to your ideal consumer. The same is true when looking for a rockstar event planner. For instance, if you were looking for a seasoned event planner would it be more effective to run an ad in an event planning community or on an engineering association job board?
The former, of course!
And yet many people looking for event planners begin their search on large general job boards.
Find your Fish
If you want to catch a freshwater fish, don't look in the ocean. Know who you're looking for from a candidate perspective and find out where they are. Don't be afraid to move beyond LinkedIn. There are many niche options that we'll get to in a bit.
While all job boards may seem the same to you at first glance, you may be surprised when you begin researching the demographics.
Generation Suggestion: Millennial job seekers aren't reading the newspaper want-ads. Many of them, instead, search online for "best places to work" and read reviews on sites like GlassDoor. Having good employment reviews about your company is important to them and they'll base their decision on it.
Half of hiring an event planner is knowing where to find great candidates.
Know Not All Event Planners Work in Events
Look for similar job duties in other professions. Your search for an event planner could actually lead you to a marketing assistant who was tasked with coordinating events. Look for job duty overlap like that when trying to figure out where your ideal candidate is.
Social Media Best Practice: Try joining a marketing group on social media. You might be surprised about the event experience there. They might not have the official title of event planner but often have lots of experience of planning events.
Explore the Niches
Post in targeted social media groups/boards and industry organizations. There are a number of event planning organizations as well as industry-specific sites, groups, and job boards that you could target in your search for the ideal candidate. Many of the association job boards will require payment to list your job posting but some social media groups allow you to do it for free.
Look for groups where your ideal candidate may spend time. Again, you're not looking to get in front of the largest number of eyes possible. You simply want the right ones. Chances are a job post in a group of event planners will yield better-qualified applicants than a more generalized job site.
Industry Advice: Look at the many event planner blogs and social media groups. They may have job posting opportunities or be willing to mention you in some way.
Put Your Feelers Out
Contact influencers in event planning. While they may not be interested in your event planner position, often eager job seekers get in touch with those deeply entrenched in the industry because they figure if anyone will know of openings, they will.
Rock the Referrals: Don't forget about employee referrals. Although they may not exactly be industry insiders, they know your company and what type of person would thrive in your position. It's important to keep in mind, according to Jobvite, 39.9% of positions are filled through employee referrals, not ads on job boards. Because of this, some companies encourage employees to leverage their social media networks for even greater exposure.
Attract Those Who Aren't Looking
Just as there's a hidden job market (those positions that never get posted because they get filled through personal connections and internally), there's also a hidden candidate pool. Recruiters often refer to this group as the cream of the (non) job seekers crop.
While they're not actively looking for a position, there are some who will entertain it if the fit is right. For example, your company may have such a good reputation as an employer and culture that employees who are happy in their current position at another company may be interested in being considered for your open position. Yet, these people are not actively searching job boards. They simply might want to work for you.
Hiring Expert Tip: You can access this hidden job candidate network through recruiters who have connections in your industry or through word-of-mouth and employee referrals.
Maximize Social Media Reach
Posting a job on social media is a great way to reach your ideal candidate, so is encouraging employees to share. But don't forget about running a targeted ad on social media. Some social networks can provide very granular search based on actions and what they're talking about. Putting your job posting in front of someone just as they're thinking about trying something new can produce a very interested candidate.
Reporting Tracking: Use several shortened URL codes for social media postings. That way you can track exactly where the referral is coming from. You could give employees one code and use others in your social media postings. This will tell you what source was the most effective for you and you can concentrate more energy in those areas.
Step Four: Perfecting the Interview Process for Better Results and Shorter Time to Hire
According to GlassDoor, the hiring manager of an open position receives 250 résumés, on average. Yet, only 2% of applicants are interviewed.
That's not a big pool. Nor should you feel pressured to interview a lot of people. Save your time and the candidate's and only interview people you believe could be your next event planner.
This part of the hiring process is a bit of a courtship. You're narrowing down the pile to just a few standout candidates and they're trying to envision working for you.
Know What to Look For
Screen résumés based on words that are important to you and your company culture. If you receive hundreds of résumés, you may want to consider using software that can help you comb through the pile faster.
Screening Know-how: Proactive, go-getters use action words in their résumés, inquiries, and cover letters. Words like assist and help indicate a passive role in the responsibility listed.
Narrow Down the Pool
There is no reason (other than some sort of office political situation) that you need to give everyone a chance to prove to you they are a good fit. Instead, only spend time with those who could be the best fits.
Time-saving Tip: Knowing your deal breakers ahead of time will help you find your ideal fit faster. If you ask candidates for salary expectations and someone is far outside what you can pay, don't waste their time to call them in and see if they'll accept half of what they want. While they may be an incredible event planner, they're not your incredible event planner.
Ask the Right Questions
Event planning is a very active role so you want to ask behavior-oriented questions. Don't simply inquire about the dates on their résumé. Ask them the "whens" and "hows" of their experience. Questions like "Tell me about a time when…" are excellent ways to uncover things that are not listed on the résumé.
HR Pro Tip: Interviewers have become very creative with their questions these days and when it comes to hiring an event planner, that's a good thing. However, be aware of asking the type of questions that could get you in trouble. You likely know you can't ask about children, marriage status, ethnicity, age, and more. But you also need to stay away from questions that could be linked with those topics like "When did you graduate?" and "Did you grow up here?"
Let Them Do the Job
Another popular trend in hiring these days is giving mini-assessments (as auditions for the role) or creating "what-if" scenarios. A good example of this for an event planner might be, "How would you handle the CEO coming to you the day before the event with 20+ additions to your sit-down event's guest list?" These assessments show you problem-solving abilities in mock real-world scenarios.
Try-outs Rule: Some companies ask candidates to perform roles similar to what they would be doing and pay them for their time. For instance, you may give your event planner candidate a mini-assignment to design a marketing strategy for your next event.
Step Five: Be the Employer Event People Want to Work For
Ideally, this step is something you're always working on. While we list it at the end, these activities are important to practice even when you're not hiring. It's an ongoing effort to create an environment people are drawn to.
Remember… one of the top places millennials look for work is searching online for "best companies to work for" and referencing job review sites.
The best talent can afford to be choosy—make sure you're the type of employer people want to work for.
Create an Awesome Brand and Culture
Become known for your brand, culture, and company. Google, Amazon, and Fresh Market have candidates tossing résumés their way all the time. While you might not be as large as these companies, you can still become known for your company culture.
There are two steps to that process:
Create an amazing culture that people want to be a part of

Market that culture
While employees will eventually market your perks and company through their own word-of-mouth efforts, you'll need to drive that, at least initially. Write press releases, enter contests in your local business magazines for the best environment or office space and see how those steps increase the number of candidates you attract.
Provide Excellent Perks
This is one way to get people talking about your company. Good benefits is a strong start but offering additional perks rounds out the package. A few years ago it was ping pong, XBox, and beer in the office on Fridays that got people's attention. Now it might be a wellness program or on-site childcare. Think about what people who you want to work for you would enjoy and then give it to them. Again, don't forget to market it.
Introduce Career Pathing
Save yourself some hiring time (in the future) through introducing career pathing and creating a culture that hires from within. Just as your employees are a strong source of referrals, they can also be a very good pool from which to draw from for filling open positions. You already know their work ethic and they know what it takes to succeed in your company.  
Hire Slow
This is one of the hardest things to do for an overworked department that has already been relying on its employees to cover the responsibilities that will be handed off to the new event planner. However, if you make a decision too quickly, you'll spend more time and energy training a bad hire only to realize they're not an ideal fit.
Having said that, if you find your ideal person right away let them know. A good job candidate is often in talks with several organizations at once. If they think you're "not that into them," they may take another position instead of waiting for yours.
Now that you know how to find the ideal event planner candidate, it's important to look at the flip side.
What should you be wary of?
Event planning is about relationships as much as it is organization. Think of the hiring process as a way to screen people who aren't adept at forming relationships quickly.
Here are some suggestions we have for types of people to turn down fast.
Don't Even Think About Hiring Someone If They…
Don't thank you for your time through a post-interview email, text, or message.

Aren't courteous to your office staff.

Can't give you a good work or client reference.

Speak badly about former clients or employers.

Are not happy. If you're seeing a bad attitude in an interview, that's a disturbing sign. Even if they're having a terrible day, they need to put on a poker face in the interview. They're going to have to do that for meeting-goers so if you don't see it in person, look elsewhere.

Don't give you everything you asked for during the process. Event planners need good attention to detail. If the candidate is leaving critical information out or not following directions, don't assume they'll do any different on the job.

Give you a

résumé

filled with grammatical errors. Yes, we all make mistakes but this person will be representing your company and be required to produce written communication. You don't want someone who doesn't pay attention and triple check.

Aren't prepared for the interview. Unless you found them on the sidewalk in front of your building and asked them to apply on the spot, they should've had time to prepare. If they didn't, you can bet that type of action will spill over into the job.
Conclusion
Hiring a stellar event planner is a necessity in making your meeting attendees happy. Whether they're coming on to assist you in a new role or you're filling a space vacated by someone else, selecting the ideal person will make your job infinitely easier. If you need to, use a temporary, consultant, third-party outsource organization, or freelance event planner to manage the workload in the interim as you take your time in the selection process to find your rock star.
---