---
---
When climbers reach the summit of a mountain, they often describe the feeling as if they are on top of the world.
So why shouldn't attendees at the conclusion of their corporate summit feel the same way?
Companies host summits that come in a variety of shapes and sizes, but they usually share one common trait – bringing together a group of distinguished business leaders with the goal to educate and energize like-minded individuals around a specific theme.
For the summit planner, being able to deliver a flawless run-of-show is an endeavor, especially if it spans several days and hosts hundreds of participants. For this type of event to reach its 'proverbial summit,' each and every person would need to have left with a truly memorable experience.
After hosting over thousands of corporate summits over the years (including our own), we've put together some key tips to impress and inspire a diverse (and often picky) group of attendees AND still deliver the business results that meeting planners need to justify their existence.
Shown: From our 2017 Fall/Winter Plated Menu – Roasted Chicken with Seasonal Vegetables @ 117 W 46th Street
I. Don't Let Food Be an Afterthought
Traditionally, menu planning starts off strong and then becomes a lower priority, getting downgraded due to budget. Don't let that happen! Top planners and venues actually make food a big deal, because they it significantly contributes attendees' productivity levels as well as their mood. Meals and snacks also create invaluable "breaking bread" time for participants to connect and collaborate beyond the happy hour format. Ensure that your summit's guests have plenty of high protein, fiber-rich foods, as these provide the optimal amount of energy to power attendees through their long day. High quality coffee is also a must, preferably served by a barista who can make killer coffee art.
Shown: Gatsby-themed Event @ 117 W 46th Street
II. Transform the Reception into Revelry
The reception is a must after a long day of sessions, but don't just turn the lights down and open up the bar. When possible, host the reception within the same venue as the summit so attendees don't stray away from the space. Also, always opt for live entertainment – whether they be contortionists, opera singers, snake charmers, magicians, or stilt walkers who work the room, not just perform in the front! It's also important to provide ample social space to ensure that there is 'seating' for every type of networking conversation– including high-top tables for quick conversations, and comfortable couches and chairs for more intimate conversations. Pro-tip: Include a reception theme with costumed accessories!
Shown: Living Room Art Wall @ 117 W 46th Street
III. Create Lust for the Wanderer
Despite the great speakers, food, space and coffee you've worked hard to curate, your attendees' eyes will inevitably grow tired of powerpoint presentations. They'll seek to find nooks and crannies around the venue to take their mind off of the event and to reset for a while. Use that as an opportunity to surprise and delight them! Psst, we don't mean add more sponsors and more free SWAG. We mean actual 'easter eggs' that they might serendipitously find – i.e. golden tickets stubs for summit prizes, a fortune cookie that provides you with a number for a free tarot card reading or even books that inspire them to think differently.
Shown: Built-in A/V booth with 32-channel mixer @ 117 W 46th Street
IV. Avoid Overcomplicating (and Overspending) on Event Technology
We've all been to an event where the speaker's microphone stops working or a video that lags or gets frozen on the big screen. A technology hiccup is essentially a summit planner's biggest nightmare, but can easily be avoided by focusing on the basics. Before you invest in holograms, laser light shows, or smoke machines, make sure that your microphones are fully charged, that your audio volumes are high enough for the entire room, and that your presenter has a confidence monitor. That may often mean investing more in technology staff! It can be very tempting to splurge on a new event app or unique wireless gizmos, but remember that basic communication technology needs to be reliable and seamless first before you cater towards the technology-first minority that may or may not appreciate your 'easter eggs.'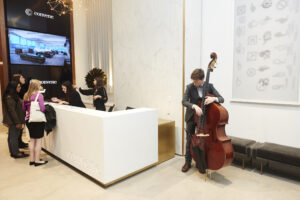 Shown: Bassist welcomes event guests @ 117 W 46th Street
V. The Art of Placemaking Doesn't Have to Be a Lonely One.
It takes a very special venue coupled with a 5-star, hospitality-oriented staff to pull off a night of magic and wonder for your next summit. Luckily, our most elegant and "white-box" venue, Convene at 117 West 46th Street, offers endless experiential possibilities to customize your corporate summit in New York City into a moment that your attendees will rave about for weeks.
But don't take our word for it, hear what leading architects, meeting planners, and anthropologists thought about their recent experience at Convene's own summit, where we brought leaders to weigh in on The Office of the Future.
---